Back to Blog page
Investment in coworking. What are flex spaces?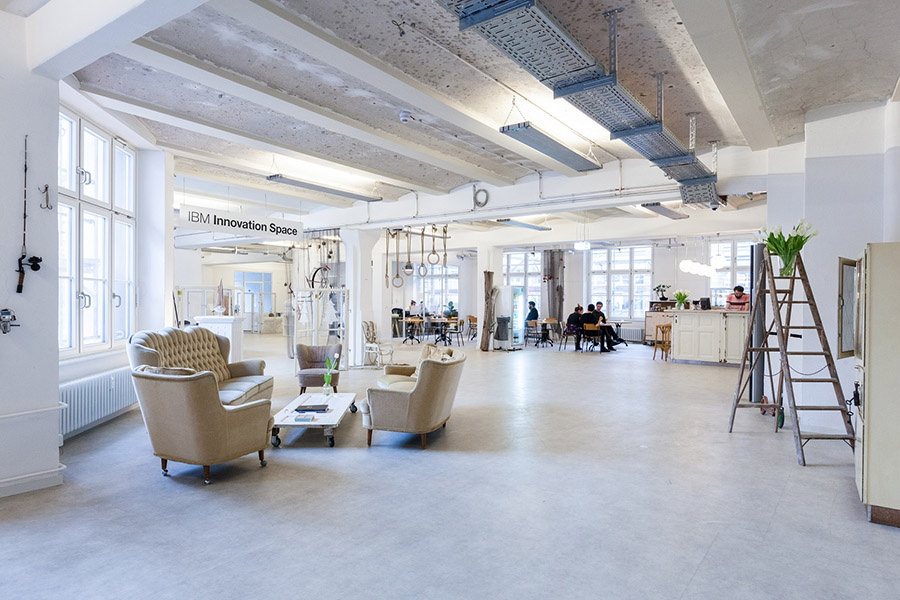 In the modern world, those who can quickly respond to market changes, be flexible, and be mobile can win. Our understanding of real estate, corporate culture, and office space is changing. Most of all, adaptability, functionality, and a sense of community, they are valuable today. In this text, we will understand what flex spaces are. And how it affects the rental market, and also understand the reasons for its popularity.
What is flex space?
Flex space is a type of real estate that is suitable for a wide range of uses. As a rule, we are talking about large formats — flexible spaces can cover thousands of square feet. A few decades ago, all industrial sites or warehouses located in one place fell under the description of such real estate.
But today, the concept of flex is expanding and capturing more and more new directions. It can be an office, coworking space, retail space, or even a contemporary art center. Now flex buildings are located not only in industrial areas but even in the center of cities or in general any other areas.
Such buildings are not just called 'multifunctional' and 'adapted' — as a rule, they are rented out for short-term rent. They are easily transformed to the needs of tenants. And also considered economical properties for entrepreneurs who are just getting ready to scale.
Flex spaces are a relatively new urban concept, beloved by both tenants and investors. This is largely due to the trend towards the revitalization of spaces. That is, the revival and restoration of different parts of the urban space. For example, buildings of factories, plants, or industrial sites. In the 21st century, we have realized that even these places can be attractive to citizens and business representatives.
Flex spaces benefits
Easy mobility
Flex differs from classic corporate real estate in that it doesn't have a clear definition — you can create a new meaning for it at any moment. Warehouse, office, entertainment center, exhibition complex — choose what you need and you can easily adapt to the rapidly changing reality.
The adaptability of flex buildings allows them to be used for completely different purposes. This is what is so attractive for representatives of different types of businesses: from small start-ups to huge corporations. It is noteworthy that even during the pandemic, this type of property remained in demand.
Scalability
Choosing flex real estate as a location for your business, you get the opportunity to expand or reduce your activities. Feel free and act according to circumstances — you always have the opportunity to rent a few more offices or vice versa, do not bind yourself with a too-long lease contract. Such conditions always leave room for maneuver.
The minimum amount of costs at the start
Creating a large corporate space is always expensive. But only if we are not talking about flex spaces, where landlords and tenants can improve the site as it grows and expands. You don't need to make large investments in design or office furniture. Because you provide tenants with space and they choose what they need.
If the concept of the site changes or the type of activity of the owner changes, he will be able to adapt the building to new needs — without extensive restoration.
Opportunity to communicate and share ideas
In a post-coronavirus world tired of working from home all the time, flexible spaces make it possible to share ideas and find like-minded people. When it comes to startup platforms, entrepreneurs have strong interest to meet, chat and keep up business communication.
The tenants of such sites are representatives of various fields of activity and interests — accordingly, the pool of possible tenants is expanding.
Why is flex spaces attractive to investors?
Over the past decade, the area of flexible spaces has grown by 22% per year. If we look at the statistics in recent years, we can see how the demand for flexible spaces in the US is constantly growing. In 2017-2018, flexible office space rentals increased by 94% to over 9 million square feet of office space, according to a JLL report.
Also, the CBRE report states that the compound annual growth rate was 13% from 2019 to 2023. As of January 2022, FLEX's vacancy rate was only 6.2%.
But why is this happening? Our lives are changeable and unpredictable, which is why flexibility becomes so much in demand. Flex spaces are the solution for a new reality where the way we do business is changing and people value the freedom to develop without limits.
The yield of flexible real estate is 7-8% — for example, this is 1-2% higher than that of office and industrial buildings, if taken separately.
Start investing
with LBC Capital Income Fund
What's with the coworking spaces?
Coworking is a workspace for people with different knowledge, experience, and employment. These spaces are ideal for small businesses, freelancers, outsourced workers, and startup teams with flexible hours.
Typically, the infrastructure of coworking spaces offers tenants comfortable workplaces with access to Wi-Fi and a kitchen. Some co-working spaces have additional amenities such as areas for relaxation, fitness, and meditation.
Again, we are talking about flexibility. Because it is she who is the main advantage of coworking spaces compared to typical office spaces.
Advantages of the coworking format for investors:
The popularity of flexible office spaces makes them a solid investment vehicle. They have a wide audience, from freelancers to large companies.

This type of commercial real estate has no seasonality.

Coworking spaces can be located in ready-made spaces with well-developed infrastructure and in passable places. Their significant advantage is that they fit perfectly into premises of any configuration, so unprofitable commercial facilities, such as cinemas, can easily be transformed into coworking spaces.

There are ample opportunities for a permanent income: to rent individual workplaces, mini-offices, meeting rooms, and conference rooms for various events. You can also organize related services: accounting services, and the sale of legal addresses.
Benefits of coworking spaces for residents:
Coworking spaces attract freelancers, entrepreneurs, startups, small or large companies, and project teams. Each audience has its own needs, but all of them are interested in comfortable work, communication, and the opportunity to exchange professional experience.

Anyone can use the services of coworking by renting a suitable workplace or space at the right time.

Coworking spaces have everything you need for comfortable work: personal workplaces, small offices, comfortable meeting rooms, office equipment, and recreation areas. And the most valuable thing is the creative atmosphere of a large space filled with different people. All this contributes to composure and stimulates work.

Some co-working spaces provide additional opportunities and are equipped with gyms, libraries, entertainment, and learning areas. Recreational areas are conducive to informal communication, where you can meet new people, share ideas or find partners.

Representatives of different fields of activity work in coworking spaces, opportunities for collaborations appear, and customers or contractors can be found among residents.
Conclusion
FLEX buildings are an interesting and modern investment solution that has a long-term perspective. This is a stable investment in times of change and a new vision of corporate spaces.
Buying and furnishing flexible spaces or co-working spaces is a modern way to get the most out of a real estate. And also, to create a community of dedicated tenants who will want to develop the site.
But, as in any business, there are always risks — therefore, we advise you not to act alone, but to conduct a thorough analysis and study the real estate market together with specialists.
Start investing in real estate successfully with the LBC Capital team — contact us and we will be happy to help you make a profitable investment.