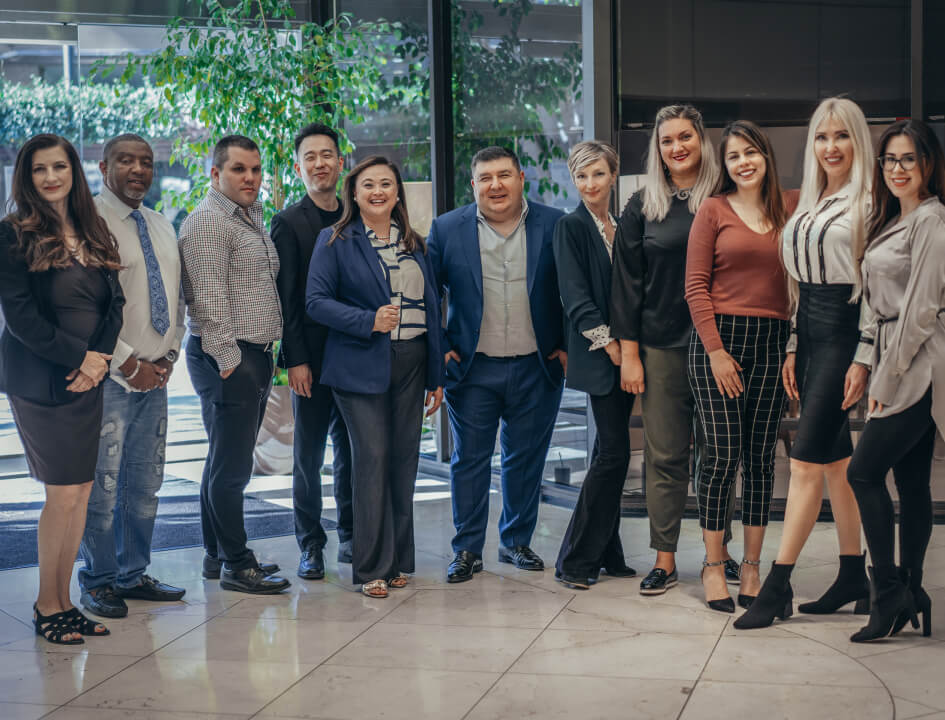 About Us
LBC Capital
With a proven track record of 12 years, our team of experts is here to assist you in finding financing and making smart real estate investments.
We take pride in our personalized approach, treating our clients like a family, fostering a welcoming environment, and maintaining open lines of communication.
Our core mission is to help you increase your income, generate returns, and experience a peace of mind.
We firmly believe in the enduring value of real estate investments, and our dedication is a testament to our conviction.
Learn more
Our Commitment
Why LBC Capital?
We believe that trust and understanding form the cornerstone of any long-term partnership.
We don't engage in real estate buying or selling, nor in flipping properties. Instead, our main assurance lies in the mortgage held on the properties we invest in.
By investing in loans, we ensure the safety of our capital, backed by the houses of our creditors.
We guarantee effective management, steady profit, and shielding against market volatility — because we know how crucial it is.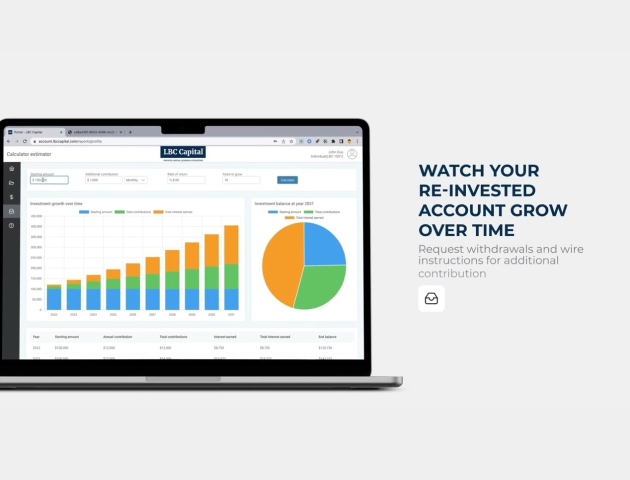 Access
Investor Portal
At LBC Capital, we are dedicated to providing investors with a wide range of valuable information and resources. Our investors portal serves as a centralized hub where you can access all updates, reports, and insights to stay informed about your investments.
Our aim is to create an environment where every investor feels comfortable with conditions that are both flexible and easily understandable.
One of the key features of our portal is the option to receive dividends by choosing automatic reinvestment. We understand that you have your own goals and preferences, which is why we provide the flexibility to tailor your investment to suit your needs.
Invest with us
Advantages
Why choose us?
Diversified, high-quality loans
Return of ~ 8%
International investors welcome
Potential for substantial long-term accumulation
High liquidity
Highly predictable cash flow
No correlation
Independently audited financial statements
Strong alignment of interests between fund management and investors
Choose us if you seek long-term investments, stable and predictable income, all with zero risk.
Our Youtube Channel
Real Estate Straight Talk
We invite you to visit our YouTube channel, where transparency meets real estate expertise. Join us, as Boris Donfman, the voice behind our success, shares his personal insights and discusses the real estate trends.
Subscribe now and prepare for an immersive experience where we explore the ins and outs of the industry with a touch of good humor and unapologetic honesty. Don't forget to check us out on our other media channels for more insightful content and updates!
Go to Youtube Channel
You need to be invested in Real estate. Why? Watch now!
Real success story
Our clients are always the embodiment of a success story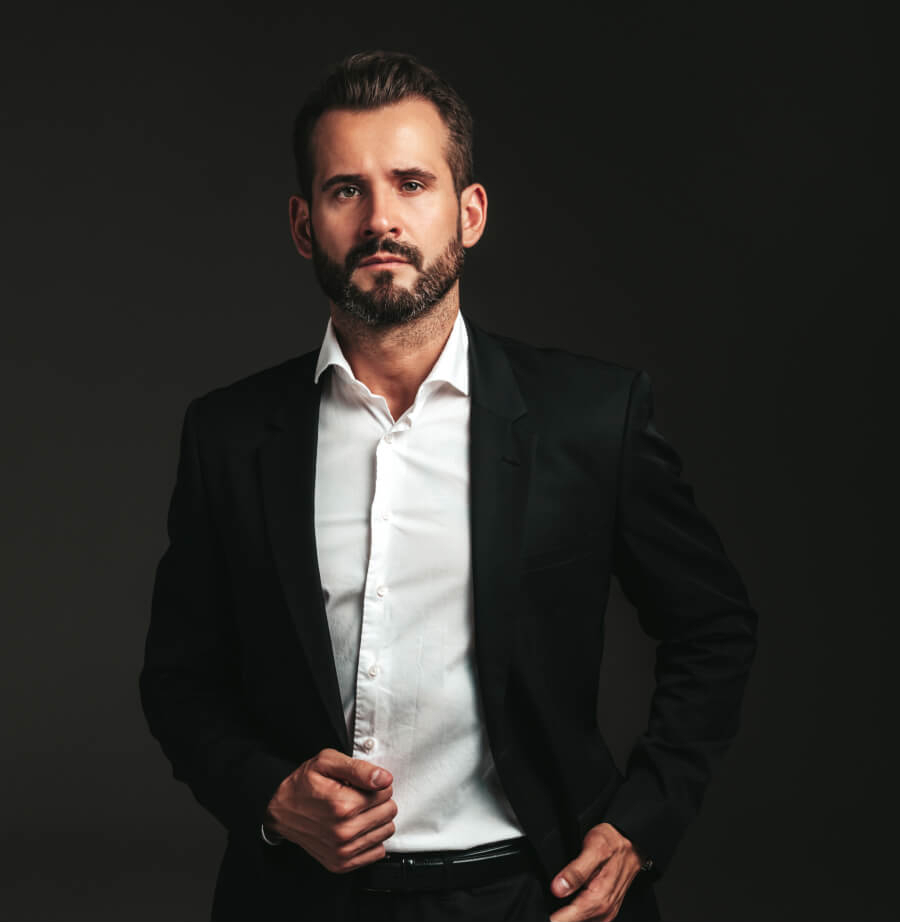 Meet our 'Model Investor'
Our investor is a person who appreciates a stable and predictable income. They choose long-term capital accumulation and understand investing in real estate is more profitable than owning a property.
We offer our investors:
8% per annum

Opportunity to receive guaranteed income once a month

Management of all processes from a team of professionals

Maximum transparency and accessibility — we provide annual financial statements. As a result, investors can have confidence that their investment is being managed responsibly and that their best interests are always in mind.
10 Years
Working with LBC Capital
$1,4 million
Earned with us
Our Cases
Funded Deals
Commercial-retail building

Chestnut

Chestnut St, San Francisco

1st lien
No appraisal
Multi-tenant
Refinance
Cash Out
6,565 SF

$2,100,000 Loan Amount

Commercial nix use building

Fulton St

Fulton St, Fresno

1st lien
No appraisal
Historical Building
Refinance
Conversion to AU
Bridge Loan
134,490 SF

$2,100,000 Loan Amount
More Funded Deals
What do our clients say?
Reviews
Keep it up, dude!
Brodie Thomson from Los Angeles, CA
"I am a broker, and having a reliable lender who can close as fast is crucial. We have closed four times together this year, and I am sure we will keep the record growing. I recommend these guys for promptness and flexibility; they did their best to be on time and with acceptable terms each time. Keep it up, dude! "
A very refreshing experience
Krystal Bishop from Los Angeles, CA
"I needed a refinance of $1.5 mln for a commercial property in Orange County and was looking for the best terms. Guys delivered. I worked with Olga. She was incredible. Very pleasant, personable, and responsive. I never had to wait for any update for too long. She had all the answers before I asked them. The turnaround was quick, and the rates she negotiated were the best I'd seen on the market — a refreshing experience."
Definitely recommend
Shari Morton from Los Angeles, CA
"Have them as a backup plan for all 15 years I've been in RE investment. Never let me down; the rates and terms are fair, and they go the extra mile. My diverse portfolio is their merit. Shout out to Vladimir for his experience and professional team. Definitely recommend. "
Can recommend it to any professional investor
Alana Meyer from Los Angeles, CA
"Fast funding, quick turnaround, and responsive officers. I worked with Boris. It was a pleasure. I was looking for a source to raise some equity. From what I was told, they manage their funds. That's ‌ how they closed $730K in 6 days. I can recommend it to any professional investor. "
True experts in the industry
Tee Johnson from Sacramento, CA
"They take a personalized approach to each client and strive to get you the funding you need. The initial consultation with Kiril gave me insight into what I need to get my deal funded. It's always a pleasure to work with a professional team — true experts in the industry."
Frequently Asked Questions
1. What is the minimum investment required to get started with LBC Capital?

We recently raised the minimum deposit to $250,000, enough to join the Income Fund.

2. How can I be sure that my funds are secure with LBC Capital?

Real estate securely protects our investors and our deposits — because we also hold capital of $3,000,000 at LBС Capital. We don't just buy houses and charge rent. We invest in real estate loans and provide financing to people who want to buy a home. If they stop paying interest, we always have their property to cover the costs.

3. How does LBC Capital handle investments during times of crisis?

The income fund has developed several steps to reduce risk and protect capital. Our team of real estate and loan specialists carefully screens all potential loan transactions. The Fund issues loans for 1-2 years and lends money only to professional investors for business purposes. We maintain title insurance for every property with 125% coverage.

4. Can you walk me through the process of transferring funds to LBC Capital?

What is the path of an investor in the LBC Capital Income Fund? 

First, you need to make an appointment. 

We discuss the details and select the best options to increase wealth. 

You invest money. 

Get a registered account 

And, finally, you get a guaranteed profit! Voila! 
Stay up-to-date
Stay one step ahead of the game by subscribing to our mailing list.
Get ready to receive expert tips, the latest news, and valuable investment opportunities delivered straight to your inbox.
Let's the journey begin
Sign up for a consultation
Embarking on your investment journey with us is easier than ever.
Simply fill out the brief form below, sharing a bit about yourself. This will enable us to tailor investment options for you, address any questions you may have, and kickstart the growth of your wealth!